November 24, 2016, Shanghai, China - in the 2016 China International Construction Machinery, Building Material Machines, Mining Machines, Construction Vehicles and Equipment Expo (Shanghai BMW Exhibition),

ExxonMobil

(China) Investment Co., Ltd. a comprehensive display of high Quality engineering machinery lubrication products and innovation and upgrading of technical services, and its strategic partner - Zoomlion in-depth exchanges at the exhibition site.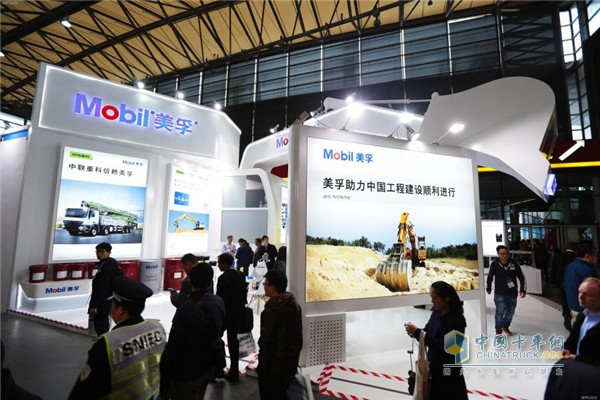 2016 BMW Exhibition Mobil booth

Exxon Mobil always implements its localization strategy, aiming at the ever-increasing demand of Chinese customers for products and services, with a view to relying on comprehensive lubrication solutions to help construction machinery companies gain safety and environmental protection by improving the reliability and durability of construction machinery and equipment. The efficient and lubricous benefits ensure the smooth construction of China's engineering construction.

Since 2011, China's construction machinery industry has experienced "blowouts" and "downturns". With the arrival of the "Thirteenth Five-Year Plan", the demand for the domestic infrastructure market picked up slightly under the guidance of national policies. At the same time, the construction machinery industry needs a set of sustainable production models to achieve the goal of energy conservation and emission reduction and accelerate the pace of transformation and upgrading. In recent years, along with the substantial increase in the number of domestic construction machinery, the use of lubricants in engineering equipment has been increasing, and demand has been concentrated in engine oils, hydraulic oils, transmission oils and greases, etc. Related companies are also seeking breakthroughs through the development of construction machinery.

With 150 years of experience in lubrication management, Exxon Mobil has been closely watching the development of China's engineering construction. Over the years, Exxon Mobil has established a good cooperative relationship with domestic and foreign advanced engineering equipment manufacturers and has been widely recognized. During the exhibition, Exxon Mobil also conducted deeper cooperation and exchange with its strategic partner, Zoomlion.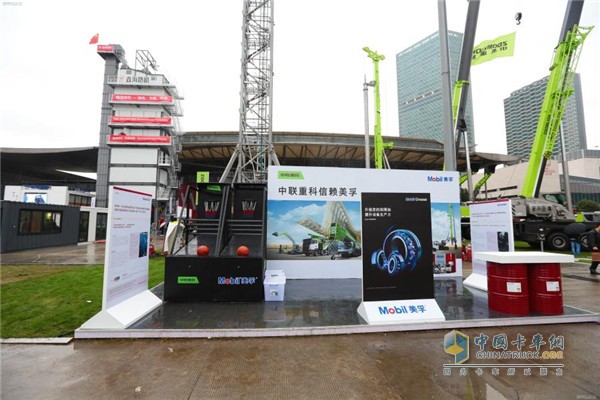 Mobil - Zoomlion Joint Exhibition Stand

The two sides use their rich experience in their respective fields to start from multiple parties and join hands to boost the smooth progress of China's engineering construction. Exxon Mobil has specifically tailored a comprehensive lubrication solution to meet the special needs of Zoomlion for its product lubrication. In terms of products, in order to improve the reliability of Zoomlion equipment, help extend the service life of equipment, and help end customers to realize the maximum performance of equipment, Mobil provides a series of excellent lubrication products; at the same time, Mobil lubricant products The joint service station is fully available for sale. In terms of service, ExxonMobil's professional technology team and Zoomlion held a number of engineering machinery-related maintenance technology exchange meetings at their service stations to help their engineers understand the latest development trends of the construction machinery industry better. Serve the end customer.

In addition, as the leader of their respective industries, Exxon Mobil, Zoomlion and China Energy Conservation Association have conducted energy-saving and energy-saving industrial lubricants energy-saving test. Through professional testing equipment and rigorous and rigorous testing procedures, under the guidance of the authority of the Association's experts, Mobil DTE 10 ExtraordinaryTM series hydraulic oil has demonstrated its outstanding energy-saving effect.

In addition to "a new generation of zinc-free hydraulic fluid" - Mobil DTE 10 Extraordinary TM series, Mobil lubricants also provide a series of excellent lubrication products to meet the lubrication needs of various types of engineering equipment, including can help extend engine life and oil change of engineering equipment. The Mobil® BlackBover® series of lubricants with improved cycle economy and improved fuel economy. High-performance anti-wear hydraulic oils. Mobil DTETM 20 Series, Mobil SHCTM Series High Performance Synthetic Lubricants for Gearboxes and Bearings, Applied to Vehicle Wheels Bearing Mobil high-performance grease XHPTM222, and Mobil-Italy SM oil analysis service.

With a full range of lubrication products and professional services, Mobil is committed to understanding in depth the various problems faced by users of construction machinery in China, providing targeted innovation and upgrading services, as well as optimized lubrication solutions to achieve efficient operation of Chinese engineering equipment and help China Construction machinery companies accelerate the transformation and upgrading.

Mr. Huang Weifang, deputy general manager of ExxonMobil (China) Investment Co., Ltd., said: "Since the adjustment period, China's construction machinery industry is facing severe overcapacity and fierce competition. Service has become an important development strategy for most of today's construction machinery companies. ExxonMobil will continue to deepen cooperation with Zoomlion to seek common development, and promote the development of safety, environmental protection, and high-efficiency development goals for construction machinery companies and help China's construction projects. The construction proceeded smoothly."

The formation of fluoride crystal mica is a sub-grade, and does not adsorb impurities. It was selected by the Chinese Academy of Sciences Environmental Biology Research Center Peking University, Tsinghua University, Shanghai Fudan University, Nanjing University, and more than 100 national research institutions and universities for Afm Substrate After (microscopy carrier wave), the relevant person said: Compared to natural mica, fluorite mica has better flatness and less adsorption impurities. The images observed in the analysis of the DNA structure, especially in the 1 nm to 100 nm scale, have observed surface interference fringes not found in the natural mica experiment, which are clearly dozens of times better than the natural mica Substrate. Experts involved in the experiment believe that the use of fluoride mica instead of natural mica as a substrate material is expected to catch up with the international level.

The main performance in the field of atomic force microscopy:

Beijing University of Technology, Zhejiang University, Shanghai Jiaotong University, Xi'an Jiaotong University, Harbin Institute of Technology, Jilin University, Northeast Normal University, Shaanxi Normal University, Sichuan University, China University of Science and Technology, Chongqing University, Tongji University, Shenzhen University

Substrate

Microscope Substrate,Afm Substrate,Growth Substrate,Multilayer Substrate

Changchun City Taiyuan FluorphlogopiteCo. Ltd. , https://www.micaslice.com