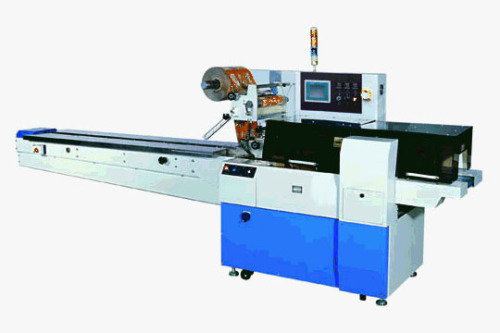 The level of China's packaging machinery industry is still a long way from the developed countries. China's packaging machinery industry still needs to increase its technological content, increase independent innovation, strive to get rid of dependence on imported machinery, and increase efforts in high-end localization of packaging equipment.

Green packaging is the main direction for the development of packaging machinery

With the deepening of the concept of environmental protection, high-end packaging is constantly experiencing cold in foreign countries, while green environmental protection packaging is favored by the international market. This will become the main development direction of China's packaging machinery products.

For example, the export form is mainly based on bulk, which is very different from the packaging of gift boxes everywhere. Foreign consumers prefer the simple and affordable packaging, and they do not accept to waste a lot of precious trees for something. Therefore, bulk or bagged clams sell best.

The United States not only produces advanced packaging machinery, but also invests a lot of people's money to study packaging cushioning materials, including tapes, strapping materials, and mechanical equipment.

China has made great progress in the production of packaging machinery. China has achieved a higher level in the filling and sealing of integrated equipment. Aseptic packaging equipment, labeling machines and other packaging production lines, domestic equipment Some imported equipment has already begun to be replaced, and the continuous improvement in the level of technology has promoted the annual increase in export volume.

New version of GMP certification puts higher requirements on pharmaceutical packaging machinery

With the acceleration of the new version of GMP certification, the requirements for pharmaceutical packaging machinery are also getting higher and higher, and companies are paying more and more attention to the development of mechanical equipment. The packaging machinery plays a very important role in the production, distribution, sales, use, quality control and cost control of pharmaceuticals.

The pharmaceutical packaging machinery integrates pharmaceutical technology, refrigeration, automatic control, manufacturing process, welding, and computer application. Therefore, in the development of new equipment products, innovative ideas, and taking into account the level of technology, companies must also develop new processes to meet the requirements of the new GMP process. Professional multi-functional talents.

In summary, the development of packaging machinery in China must be market-oriented. According to the principles of green environmental protection, and in accordance with the new GMP production process, we should further advance towards independent innovation and automation. With the attention of enterprises, the support of national policies, and the continuous development of talents Training, as well as the continuous absorption and absorption of new technologies from abroad, it is believed that China's pharmaceutical packaging machinery will enter the international advanced ranks and provide better support for the development of the pharmaceutical industry.

our dished heads are used in a variety of applications and industries such as storage tanks, pressure vessels, road tank, food processing operations, chemical plants ,Nuclear operation, Oil Refining, Architectural feature, power generation.

Due to our forming experience and equipment, we can spin or press the first part of the process of forming your products, It depend on the thickness and material performance,

Our main products are 2:1 SE dished heads, Torispherical heads, Cones,Hemispherical Heads etc

Choosing the right type is the key decision for each customer and one for which our experience team to happy to give advice, simple speaking, the torispherical heads, the less ressure it can withstand, Conversely, the deeper dished heads, for example Elliptical heads, hemispherical, the greater pressure it can take.

Our in house-capability to form dished heads by cold press brings major benefits to our customers and sets us apart from others dished heads manufactures

For carbon steel dished heads, we can forming this dished heads from 76-9000mm in diameter and below 250mm in thickness

The general forming process as the below sketches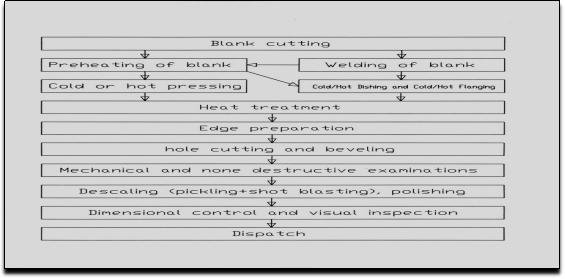 Technical Delivery Condition
1,Our material (hot Rolled Unalloyed structural steel, high and low temperature steel, High Alloy steel)
We have no carbon steel plates in our stock and most of plates are from Chinese steel market or mill. Meanwhile As Japanese owed company, We can also source the plates from Japanese ex-mill if end user can`t accept ex-chinese mill.
Basically the delivery time shall be below 20days for dished heads if plates are from steel market. and Max plates width from them is below 2200mm. it means that the seamless dished heads diameter shall be below about 1800mm.
The max width CS plates that Chinese mill can do is below 4700mm,and dished heads can be seamless below 3800mm in diameter.




2,Enquiry/order required information

We can give our clients once they gave us the below information

But if clients tolerance is higher than below Hokkai standards, it shall be provided to Hokkai prior to offer or ordering.



Cold Press Dished Head,Cold Press Stainless Steel Dish Head,Cold Pressed Dished Elliptical Tank Head,Cold Mould Pressed Dished Head

YIXING HOKKAI HEAD PLATE CO.,LTD , http://www.hokkaidishedend.com