Model NO.: XB-OTS-600A

Display: Digital

Control: Computer Control

Weight: 0-100Kg

Power Source: AC220V

Power: Electronic

Usage: Tensile Testing Machine

Max.Acceleration(G): 17

Motor: Servo Motor

Test Speed: 1~500 mm/Min Selectable

Stroke Resolution: 0.1mm

Test Stroke: 600mm (Without Grips)

Force Precision: +/- 0.5%

Max Capacity: 2,5,10,20,50,100,200,500kgf Can Be Setting

Trademark: OTS

Transport Package: Standard Strong Wood Case

Specification: 580*580*1250mm

Origin: Guangdong, China (Mainland)

HS Code: 90248000

Model NO.: XB-OTS-600A

Display: Digital

Control: Computer Control

Weight: 0-100Kg

Power Source: AC220V

Power: Electronic

Usage: Tensile Testing Machine

Max.Acceleration(G): 17

Motor: Servo Motor

Test Speed: 1~500 mm/Min Selectable

Stroke Resolution: 0.1mm

Test Stroke: 600mm (Without Grips)

Force Precision: +/- 0.5%

Max Capacity: 2,5,10,20,50,100,200,500kgf Can Be Setting

Trademark: OTS

Transport Package: Standard Strong Wood Case

Specification: 580*580*1250mm

Origin: Guangdong, China (Mainland)

HS Code: 90248000

Single Column Electronic Single Column Tensile Strength Testing MachineModel: XB-OTS-600A
 
Applicable Industries:
 

  This machine can test various materials (both finished and semi-finished products ) of tensile strength ,compressive strength and elongation ,can do stripping ,tear strength ,flexural ,compression test and etc. It can connect up to the computer and display or printout the test times , test value , max. value , etc . Also it can make various report forms according to the requirements .

 

  The testing machine is widely used in all kinds of hardware, metal, rubber and plastics, footwear, leather, clothing, textiles, insulators, wires, cables, terminals and other types of materials, testing, tensile, tear, peel,compression, bending, shear, three-point bending ... and other physical test performance. 

 
 Specification 
Factory Direct Electronic UTM Testing Equipment Tensile Strength Testing Machine

 
Model
XB-OTS-600
Max capacity
2,5,10,20,50,100,200,250kgf can be setting
Induction method :
Precision load cell (sensor)
Max. Load Capacity  :
250kgf
Force Resolution/Accuracy:
± 0.5%
Accuracy class :
0.5
Resolution:
1/1,000,000
Test stroke :
Max.700 mm( included the fixture)
Stroke Resolution:
0.01mm
Speed range:
0.01-500mm/min
Machine Dimension  (W*D*H)
580*580*1250mm (W*D*H)
Weight:
About 65kg
Power :
1 phase 220V 50Hz
Packing
Standard Export plywood case
Displacement Control:
Displacement encoder count with four frequency technology
So that the displacement of four times
 the resolution can up to 0.0005mm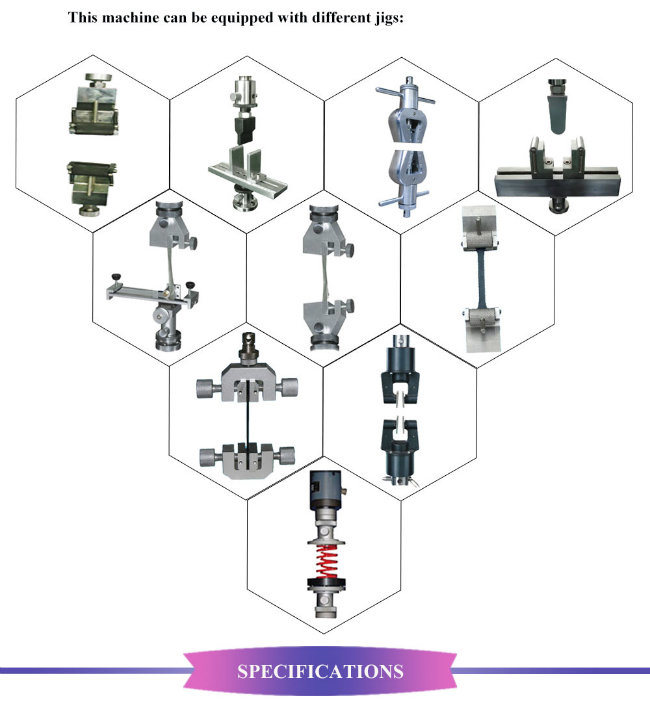 Force system: servo drives + Servo motor + precision ball screw drive

 

Control system:Mechanical transmission + TM2101 + Pulse Command and Control System control

 

Measurement and Control System : TM2101 and control system; master controller uses the most advanced 32-bit ARM processor in the 21st century, the processing speed of the Pentium-class common computer standards, compared to the traditional 8 yuan SCM control system overall performance greatly improved, faster operation, control accuracy higher

 

Obtain data:Â The key components are used America's most stable and ultra-precision 24 yuan AD, sampling rate of up to 2000 times / sec, can capture the power of instantaneous change process, the entire file, regardless of the resolution of up to 1,000,000 indexing

 

Software functions:

1. Use windows working platform, set all parameter with dialog forms and operate easy;

2. Using a single screen operation, do not need to change the screen;

3. Have simplified Chinese, traditional Chinese and English three languages,switch conveniently;

4. Plan test sheet mode freely;

5. Test data can be directly appeared in the screen;

6. Compare multiple curve data through translation or contrast ways;

7.With many units of measurement, the metric system and british system can switch;

8.Have automatic calibration function;

9.Have user-defined test method function

10.Have test data arithmetic analysis function

11. Have the function of automatic magnification, to achieve the most appropriate size of graphics

 

Corresponding Standard:

ASTM D903,F2258,GB/T 2790/2791/2792, CNS-11888,JIS K6854,GB/T 6329,BS EN 14410-2003,YY/T 0729,GOST 21751Â and other standards.

Our Company

OTS (Overall Testing System)

Was established in 1978, with 35 years' history

With 30,000 square meter salable production base and 120 employees

Is one of the leading companies solely dedicated to manufacture of

Environmental Simulation Test Chambers ,Physical Testing Equipment .

(such as  constant temperature and humidity chambers, environmental chambers, climatic test chambers, rain and dust test chambers,thermal shock test chambers,fast change rate chambers, salt spray chamber,UV test chambers,walk in test chambers and other special customized test chambers  ;Tensile testing machine, vibration test machine ,carton compression testing machines, bursting strength testing machine etc.) ..

OTS has the equipment and expertise, with own R&D and consultant team, to meet and exceed your testing requirement.With offices in unrivaled quality advantage, dynamic management team with superb manufacturing process,also the quality with the world norms:ISO , ASTM, DIN, EN, GB, BS, JIS, ANSI, UL,CE, TAPPI, AATCC, IEC, VDE...

 


FAQ:

Q1 :Can you customize the product?

A:Yes, we can customize any products according to requirements.Hot selling lab electronic temperature humidity cabinet/Environmental climate test chamber also can be customized.

Q2 :How to choose the most suitable products?

A:Our professional team will give you the best suggestion,just be  patiently to tell us the information about the parameters your required.

Q3 :Can you arrange installations and commissioning in our lab?

A:Firstly, for standard chamber we had 3-5 days commissioning before shipping , you just need link power in your lab, then can start to operate

Secondly;We had detailed operation manual with chamber , any problems you can find and solve in it

Thirdly, some of customized chambers we should to install and teach your team to operate .

If you want to know more information...
Please leave a message below and click " SEND "
Thanks for your time and attention~Thank you! Single Column Electronic Single Column Tensile Strength Testing MachineModel: XB-OTS-600A
 
Applicable Industries:
 

  This machine can test various materials (both finished and semi-finished products ) of tensile strength ,compressive strength and elongation ,can do stripping ,tear strength ,flexural ,compression test and etc. It can connect up to the computer and display or printout the test times , test value , max. value , etc . Also it can make various report forms according to the requirements .

 

  The testing machine is widely used in all kinds of hardware, metal, rubber and plastics, footwear, leather, clothing, textiles, insulators, wires, cables, terminals and other types of materials, testing, tensile, tear, peel,compression, bending, shear, three-point bending ... and other physical test performance. 

 
 Specification 
Factory Direct Electronic UTM Testing Equipment Tensile Strength Testing Machine

 
Model
XB-OTS-600
Max capacity
2,5,10,20,50,100,200,250kgf can be setting
Induction method :
Precision load cell (sensor)
Max. Load Capacity  :
250kgf
Force Resolution/Accuracy:
± 0.5%
Accuracy class :
0.5
Resolution:
1/1,000,000
Test stroke :
Max.700 mm( included the fixture)
Stroke Resolution:
0.01mm
Speed range:
0.01-500mm/min
Machine Dimension  (W*D*H)
580*580*1250mm (W*D*H)
Weight:
About 65kg
Power :
1 phase 220V 50Hz
Packing
Standard Export plywood case
Displacement Control:
Displacement encoder count with four frequency technology
So that the displacement of four times
 the resolution can up to 0.0005mm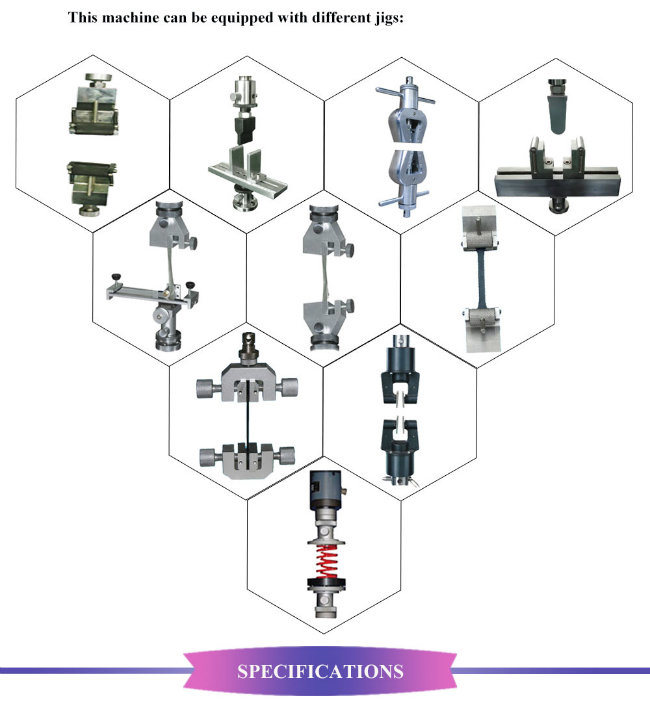 Force system: servo drives + Servo motor + precision ball screw drive

 

Control system:Mechanical transmission + TM2101 + Pulse Command and Control System control

 

Measurement and Control System : TM2101 and control system; master controller uses the most advanced 32-bit ARM processor in the 21st century, the processing speed of the Pentium-class common computer standards, compared to the traditional 8 yuan SCM control system overall performance greatly improved, faster operation, control accuracy higher

 

Obtain data:Â The key components are used America's most stable and ultra-precision 24 yuan AD, sampling rate of up to 2000 times / sec, can capture the power of instantaneous change process, the entire file, regardless of the resolution of up to 1,000,000 indexing

 

Software functions:

1. Use windows working platform, set all parameter with dialog forms and operate easy;

2. Using a single screen operation, do not need to change the screen;

3. Have simplified Chinese, traditional Chinese and English three languages,switch conveniently;

4. Plan test sheet mode freely;

5. Test data can be directly appeared in the screen;

6. Compare multiple curve data through translation or contrast ways;

7.With many units of measurement, the metric system and british system can switch;

8.Have automatic calibration function;

9.Have user-defined test method function

10.Have test data arithmetic analysis function

11. Have the function of automatic magnification, to achieve the most appropriate size of graphics

 

Corresponding Standard:

ASTM D903,F2258,GB/T 2790/2791/2792, CNS-11888,JIS K6854,GB/T 6329,BS EN 14410-2003,YY/T 0729,GOST 21751Â and other standards.

Our Company

OTS (Overall Testing System)

Was established in 1978, with 35 years' history

With 30,000 square meter salable production base and 120 employees

Is one of the leading companies solely dedicated to manufacture of

Environmental Simulation Test Chambers ,Physical Testing Equipment .

(such as  constant temperature and humidity chambers, environmental chambers, climatic test chambers, rain and dust test chambers,thermal shock test chambers,fast change rate chambers, salt spray chamber,UV test chambers,walk in test chambers and other special customized test chambers  ;Tensile testing machine, vibration test machine ,carton compression testing machines, bursting strength testing machine etc.) ..

OTS has the equipment and expertise, with own R&D and consultant team, to meet and exceed your testing requirement.With offices in unrivaled quality advantage, dynamic management team with superb manufacturing process,also the quality with the world norms:ISO , ASTM, DIN, EN, GB, BS, JIS, ANSI, UL,CE, TAPPI, AATCC, IEC, VDE...

 


FAQ:

Q1 :Can you customize the product?

A:Yes, we can customize any products according to requirements.Hot selling lab electronic temperature humidity cabinet/Environmental climate test chamber also can be customized.

Q2 :How to choose the most suitable products?

A:Our professional team will give you the best suggestion,just be  patiently to tell us the information about the parameters your required.

Q3 :Can you arrange installations and commissioning in our lab?

A:Firstly, for standard chamber we had 3-5 days commissioning before shipping , you just need link power in your lab, then can start to operate

Secondly;We had detailed operation manual with chamber , any problems you can find and solve in it

Thirdly, some of customized chambers we should to install and teach your team to operate .

If you want to know more information...
Please leave a message below and click " SEND "
Thanks for your time and attention~Thank you!

FantasView Hybrid Wiper Blades include Multi-Fit Series Hybrid Wiper Blades, Retro-Fit Series Hybrid Wiper Blades.
Precision glass wiping, extremely silent action and the flexible ability to gain full windshield contact, the aerodynamic design ensures optimal pressure at even high speed that will surprise you.
Helps you maintain a clear, safe view of the road ahead at highway speeds and in any weather condition.

Superior Windshield Contact
Superior Winter Performance
Superior Patent Pending
Spring Loaded Design
More beautiful than a traditional wiper blade,

More stability & quality than that of normal flat wiper blades.

Hybrid Wiper Blades

Hybrid Wiper Blades,Multi-Function Hybrid Wiper Blade,Windshield Hybrid Wiper Blades,Auto Hybrid Wiper Blades

NINGBO FANTASVIEW WIPER BLADES CO., LTD. , http://www.fantasview.com