Model NO.: 109B

Trademark: TRISUN

Transport Package: Standard

Specification: 0.635"-6′

Origin: China

HS Code: 84842000

AES M01 Seals, It has balanced and non-balanced seals, which is used for industrial pump. 

our Mechanical seal model 109B is widely used for industrial pumps. Â The normal material combination include resin carbon/ceramic/PTFE/ss304,resin carbon/tc/PTFE/ss304,sic/sic/PTFE/ss304 ,tc/tc/PTFE/ss304 and so on. we also can make changes as customers'requirement or totally design a new type of mechanical seal to meet clients'needs.

TS 109B

Operating Limits:

Pressure: ≤2.5MPa

Speed: ≤25m/s

Temperature: -30ºC~+200ºC

 

Stationary Seats:

1. The standard seat for the TS 109 is the type "A" seat.

2. Type P and PP seats are also available.

 

Rotary Ring (Carbon/SiC/TC)

Stationary Ring (99%Ceramic/SiC/TC)

Secondary Seal (PTFE)

Spring & Other Parts (SUS304/SUS316)

 

Structural Features:

1. Uses a PTFE (Teflon) secondary seal for corrosion resistance in applications for the chemical industry.

2. Applications include all types of rotating equipment, such as centrifugal pumps, mixers, and agitation crushers.

3. Mechanically driven, reducing attrition from the shaft and sleeve. Seal runs in two directions.

4. Seal is a multi-spring, unbalanced type that meets API610 standards.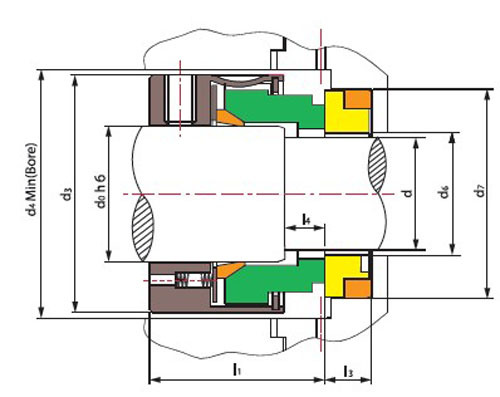 Seal size 
(inches)

d

d0

d3

d4

d6

d7

l1

l3

l4

0.625Â 

12.7Â 

15.88Â 

30.7Â 

34

13.4Â 

25.40Â 

27

7.95

4.8

0.750Â 

15.9Â 

19.05Â 

34.0Â 

37

16.6Â 

31.75Â 

30

10.3

4.8

0.875Â 

19.1Â 

22.23Â 

37.2Â 

40

19.7Â 

34.93Â 

32

10.3

6.4

1.000Â 

22.2Â 

25.40Â 

40.3Â 

43

22.9Â 

38.10Â 

33

10.3

6.4

1.125Â 

25.4Â 

28.58Â 

43.5Â 

46

26.1Â 

41.28Â 

35

11.1

7.9

1.250Â 

28.6Â 

31,75

48.3Â 

51

29.3Â 

44.45Â 

35

11.1

7.9

1.375Â 

28.6Â 

34.93Â 

51.5Â 

54

29.3Â 

44.45Â 

37

11.1

8.7

1.500Â 

31.8Â 

38.10Â 

54.6Â 

58

32.4Â 

47.63Â 

37

11.1

8.7

1.625Â 

34.9Â 

41.28Â 

61.0Â 

64

35.6Â 

50.80Â 

45

11.1

8.7

1.750Â 

38.1Â 

44.45Â 

64.2Â 

67

39.8Â 

53.98Â 

45

11.1

9.5

1.875Â 

41.3Â 

47.63Â 

67.3Â 

70

42.4Â 

60.33Â 

45

12.7

9.5

2.000Â 

44.5Â 

50.80Â 

70.5Â 

73

45.5Â 

63.50Â 

45

12.7

9.5

2.125Â 

47.6Â 

53.98Â 

76.9Â 

80

48.7Â 

66.68Â 

52

12.7

11.1

2.250Â 

50.8Â 

57.15Â 

80.0Â 

83

51.9Â 

69.86Â 

52

12.7

11.1

2.375Â 

54.0Â 

60.33Â 

83.2Â 

86

55.0Â 

76.20Â 

52

14.3

11.1

2.500Â 

57.2Â 

63.50Â 

86.4Â 

89

58.2Â 

79.38Â 

52

14.3

11.1

2.625Â 

60.3Â 

66.68Â 

89.6Â 

92

61.4Â 

82.55Â 

52

14.3

11.1

2.750Â 

63.5Â 

69.85Â 

92.7Â 

96

64.6Â 

85.73Â 

52

14.3

11.1

2.875Â 

66.7Â 

73.03Â 

95.9Â 

99

67.7Â 

85.73Â 

52

14.3

11.1

3.000Â 

69.9Â 

76.20Â 

97.5Â 

100

70.9Â 

88.90Â 

52

15.9

11.1

3.125Â 

73.0Â 

79.38Â 

100.7Â 

104

74.1Â 

95.25Â 

52

15.9

11.1

3.250Â 

76.2Â 

82.55Â 

105.4Â 

108

77.3Â 

98.43Â 

52

15.9

14.3

3.375Â 

79.4Â 

85.73Â 

108.6Â 

111

80.5Â 

101.60Â 

52

19.8

14.3

3.500Â 

82.6Â 

88.90Â 

111.8Â 

115

83.6Â 

104.78Â 

52

19.8

14.3

3.625Â 

85.7Â 

92.08Â 

115.0Â 

118

86.8Â 

107.95Â 

52

19.8

14.3

3.750Â 

88.9Â 

95.25Â 

118.1Â 

121

90.0Â 

111.13Â 

52

19.8

14.3

3.875Â 

92.1Â 

98.43Â 

121.3Â 

124

93.1Â 

114.30Â 

52

19.8

14.3

4.000Â 

95.3Â 

101.60Â 

124.5Â 

127

96.3Â 

117.48Â 

52

19.8

14.3

4.125Â 

98.4Â 

104.78Â 

127.7Â 

131

99.5Â 

120.65Â 

52

19.8

14.3

4.250Â 

101.6Â 

107.95Â 

130.8Â 

134

102.7Â 

123.83Â 

52

19.8

14.3

4.375Â 

104.8Â 

111.13Â 

134.0Â 

137

106.3Â 

130.18Â 

52

19.8

14.3

4.500Â 

108.0Â 

114.30Â 

137.2Â 

140

109.5Â 

133.35Â 

52

19.8

14.3

4.625Â 

108.0Â 

117.48Â 

149.9Â 

153

109.5Â 

133.35Â 

64

19.8

15.9

4.750Â 

111.1Â 

120.65Â 

153.1Â 

156

112.7Â 

136.35Â 

64

19.8

15.9

4.875Â 

114.3Â 

123.83Â 

156.2Â 

159

115.9Â 

139.70Â 

64

19.8

15.9

5.000Â 

117.5Â 

127.00Â 

159.4Â 

165

119.0Â 

142.88Â 

64

19.8

15.9

5.125Â 

120.7Â 

130.18Â 

162.6Â 

168

122.2Â 

146.05Â 

64

19.8

15.9

5.250Â 

123.8Â 

133.35Â 

165.8Â 

172

125.4Â 

149.23Â 

64

19.8

15.9

5.375Â 

127.0Â 

136.53Â 

168.9Â 

175

128.6Â 

152.40Â 

64

19.8

15.9

5.500Â 

130.2Â 

139.70Â 

172.1Â 

178

131.7Â 

155.58Â 

64

19.8

15.9

5.625Â 

133.4Â 

142.88Â 

175.3Â 

181

134.9Â 

158.75Â 

64

19.8

15.9

5.750Â 

136.5Â 

146.05Â 

178.5Â 

184

138.1Â 

161.93Â 

64

19.8

15.9

5.875Â 

139.7Â 

149.23Â 

181.6Â 

187

141.3Â 

165.10Â 

64

19.8

15.9

6.000Â 

142.9Â 

152.40Â 

184.8Â 

191

\

\

64

\

15.9
We supply good quality hydraulic transmission jack, floor jack, shop crane, engines support, jack stand and bead seater used in garage and work shops. The tools provide a simple, fast, safe and economical way to repair tires and vehicles


Jack And Bead Seater,Air Tire Bead Seater

Ningbo Heyu Tire Repairs Co., Ltd. , https://www.auto-repair-tool.com