Model NO.: KYSB

Impeller: Open

Usage: Pump

Rated Speed: 990, 1480 or 2960r/Min

Max Flow: 3975m3/H

Max Head: 230meters

Fluid Temperature: Less Than 80 Degress

Trademark: Kaiyuan

Origin: Shanghai, China

KYSB Mechanical Seal Double Suction Centrifugal Water Pump 

PRODUCT OVERVIEW:

According to market needs, KYSB Mechanical Seal Double Suction Centrifugal Water Pump are developed in the broad absorption of advanced technology. Its remarkable characters are as follows: perfect, excellent general model, novel structure, convenient repair. KYSB type water pumps currently produced by our company have fall into more than 40 categories, nearly 400 specification products. We had improved pump impeller and impeller diameter to lead to its impact framework and increasing efficiency. In the spectrum performance range, we can provide any water pump that meets users' need for pump head and flow.

Sophisticated products and complete quality control, reach domestic advanced standard. We have IS09001 certificate so we can ensure its quality.

This series of water pumps are in accordance with lS02548C, GB321 6C, GB/T5657 standard.

 

 

APPLICATIONS:

KYSB Mechanical Seal Double Suction Centrifugal Water Pump is widely used in city water supply and drainage, urban water supply; water supply and drainage of central heating system; iron and steel metallurgy, petrochemical refineries, paper mills, oil fields, power plant, airport construction, chemical plants, textile mills, sugar refinery, chemical plant, power plant water supply and drainage, the factory, mine fire water supply system, air conditioning system of water supply, farmland irrigation and drainage,  and all other kinds of water engineering.

 
KYSB Mechanical Seal Double Suction Centrifugal Water Pump  
Widely used in many scopes 
High quality and best prices
KYSB 5hp Diesel Engine Water Pompa
 

WORKING CONDITIONS:
Rotation speed: 990, 1480 or 2960rpm
Voltage: 380,6kv or 10kv
Inlet and outlet diameter: 150-600mm (in accordance with GB/T17241.66-1998 flange standard)
Flow: 68-3975m3/h
Head: 6-230m
Temperature: fluid temperature ≤80, ambient temperature≤40
Working pressure: 1.0Mpa (G) (Hsp≤75m) or 1.6MPa (Hsp>75)
Medium permitted: clean water, contact to us for special requirement
Pipe parts for seal: can't be installed under condition of above 0.03MPa (G)
 

PHOTO OF Centrifugal Water Pump  AVAILABLE):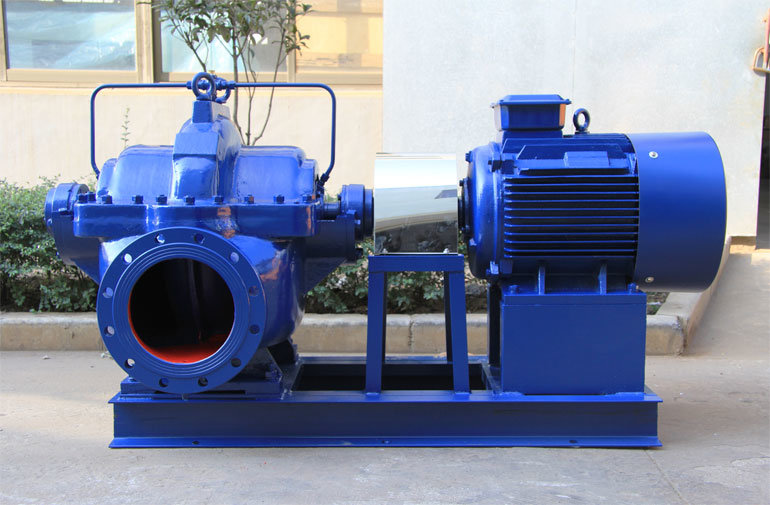 MODEL MEANING OF KYSB WATER PUMP: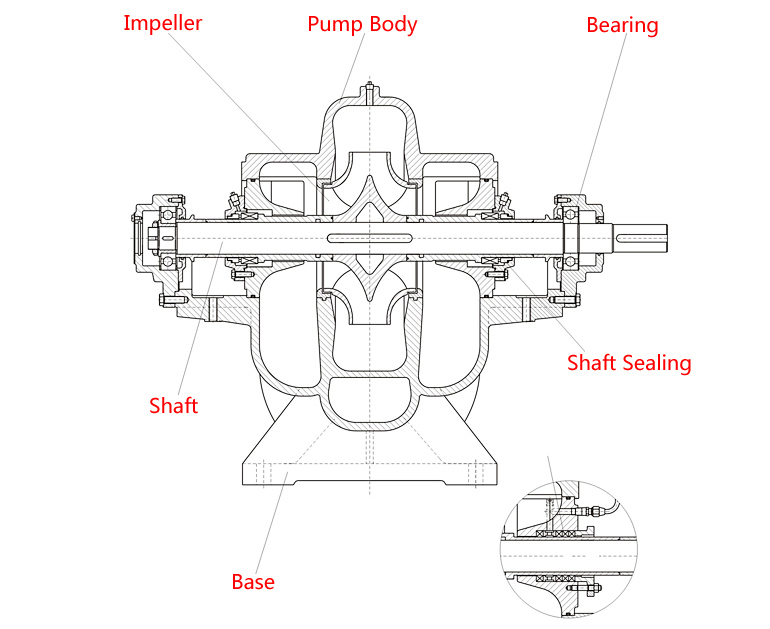 KYS B 200 - K 6 / 258 - F
| | |
| --- | --- |
| KYS | KYSB Mechanical Seal Double Suction Centrifugal Water Pump  |
| B | New Model split centrifugal pump |
| 200 | Inlet Diameter (mm) |
| - | - |
| K | Impeller model K-Original impeller Z-Modification of impeller |
| 6 | 1/10Â of impeller specific speed |
| / | / |
| 258 | Specification code |
| - | - |
| F | Special type: Rotation direction of pump is anticlockwise.(Standard type:No marks) |
 

 

 

   

STRUCTURE OF KYSB CENTRIFUGAL WATER PUMP:

 
Impeller

Equipped with double suction impeller, which release the axial force to lowest level.
Most advantaged CDA hydraulic model.
The pump body can be adjusted to transformed impeller so that it can improve its efficiency in different situations.

Pump body

Equipped with double volute case, it releases radial force. Force on shaft decrease and lead to longer service life.
Convenient installation. Pump cover with automatic correction function.
Relative pipeline position of motor and pump body is changeable so as to adjust to different occasions.
There is on vortex beside inlet, stable operation and low wastage.

Bearing

Convenient maintenance, enlarged bearing, long service life.
Bearing sleeve fixed up in bottom of bearing, which contributes to stationary position and its reliability, easy dismounting.

Shaft

Enlarged one, fine rigidity stable operation, novel structure.
There is no damage on rotor even though short time of reversal and it is easily changed back into right direction.
It is a complete sealed shaft that could not get in touch with liquid and has nothing to do with thread corrosion.
Spare parts finely meet the pump specifications.

Base

Welded steel one for you chose which has the feature of impact resistance and fine malleability. It is portable and durable one.

Shaft Sealing

Branded mechanical sealing with no leakage, axle sleeve is stainless steel, which avoids corrosion.
Wadding used meets requirements for environmental protection.
Injection type of wadding can ensure current on-line service without stop the machine so that it can save loss of machine halt. Frictional power consumption decreases.
 

 

ASSEMBLY:

 

 

CURVE OF KYSB WATER PUMP: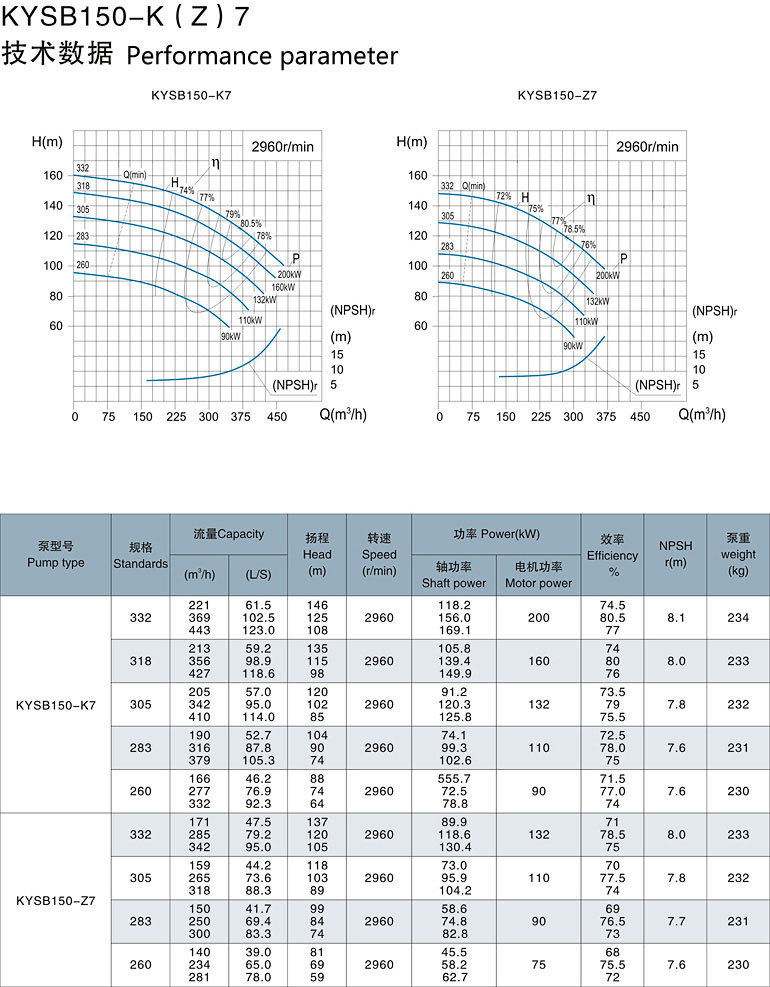 PERFORMANCE PARAMETER OF KYSB200-K(Z)4 WATER PUMP:

 

 
Pump Type

Standards

Capacity

Head

(m)

Speed

(r/min)

Power

(kW)

Efficiency

%

NPSH

r(m)

Weight

(kg)

(m3/h)

(L/S)

Shaft Power

Motor Power

KYSB200-K4

338

168

280

336

46.7

77.8

93.3

200

193

180

2960

145.2

207.2

245.7

250

63

71

67

10.5

369

360

155

258

310

43.1

71.7

86.1

176

165

155

2960

121.7

167.9

195.2

220/200

61

69

67

10.3

365

328

142

236

284

39.4

65.6

78.9

146

138

132

2960

95.7

132.3

157.0

160

59

67

65

10.1

361

305

132

220

250

36.7

61.1

69.4

131

120

1 12

2960

81.2

108.9

119.1

132

58

66

64

9.9

359

283

124

207

245

34.4

57.5

68.1

1 1 3

1 03

1 01

2960

66.9

89.3

110

57

65

63

9 7

357

388

143

238

285

39.7

66.1

79.2

196

190

176

2960

123.1

175.9

206.9

220

62

70

66

10.3

368

360

124

208

250

34.4

57.8

69.4

1 72

1 60

1 51

2960

96.8

133.2

158.1

160

60

68

65

10.0

363

KYSB200-Z4

328

156

196