Model NO.: XM-TE934

Applicable Environment: All

Certification: CE, RoHS

Weight: 37.50 Kg

Warterproof: IP67

Durable Cycle: 10000 Times

Warranty: 13 Months

Pulling: 12000lb

Trademark: N/A

Transport Package: Box

Specification: 61x 25 x 35 cm

Origin: China

HS Code: 84253190

Model NO.: XM-TE934

Applicable Environment: All

Certification: CE, RoHS

Weight: 37.50 Kg

Warterproof: IP67

Durable Cycle: 10000 Times

Warranty: 13 Months

Pulling: 12000lb

Trademark: N/A

Transport Package: Box

Specification: 61x 25 x 35 cm

Origin: China

HS Code: 84253190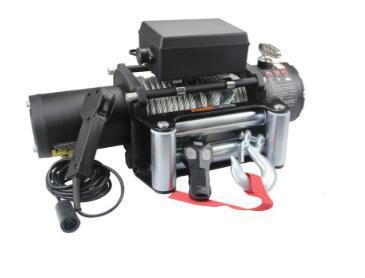 It's  the most popular model in the current market .Classic design ,excellent performance with not a big price ,which are the top choice for customers . high quality with brute torque series wound motor , 3 stage gear driven- train , Sliding ring gear for "engage" and "disengage" . Working at extreme hard condition , low noise ,small amps .Top recovery equipment for off-road . They are available of pulling ranges from 8500lbs-12500lbs . Welcome to further inquiries !

 

Synthetic rope & aluminum fairlead are available for this model !

 

12000LBS Features and Specifications :

Part number : XM-TE934

Performance: DC 12 V OR 24 V

Single line rated pull: 12,000lbs ( 5436kg)

Motor: 6.65hp/5.0kw series -wound

Braking action: Automatic locking with motor

Clutch: Sliding ring gear

Gear train : 3 -stage planetary

Gear ratio: 265: 1

Remote Switch: 12ft ,wire remote control with black hand bar , wireless remote kits included

Battery: Recommended:650CCA minimum for winching

Battery Leads: 2 Gauge 72"(1.83m)

Fairlead: 4-way roller fairlead (Aluminum Hawse available )

Synthetic rope: Ф10 x 85 ft (Ф10x 25 m )

Weight: 92Â pound (39kg )

Overall dimension: 21.3" x 8.6" x 6.3" (550mm x 220mm x 160mm)

Mounting bolt pattern: 10" x 4.5" (254mm x 114.3mm)

 

Line Speed And Amp Draw ( First Layer )
Line Pull
lb
NO
4000
6000
8000
10000
12500
kg
LOAD
1812
2718
3624
4304
5665
Line speed
ft/min
22.8
11.8
10.2
8.5
7.0
6.0
m/min
6.95
3.6
3.6
2.6
2.13
1.83
Motor current
Amps
78
166
207
248
310
372
 

Line Pull And Cable Capacity
Layer of cable
 
1
2
3
4
Rated line pull per layer
lb
12500
9927
8250
7045
kg
5665
4497
3737
3191
Length of cable on drum
ft
17.8
38.2
64.2
72
m
5.93
12.73
19.57
24.00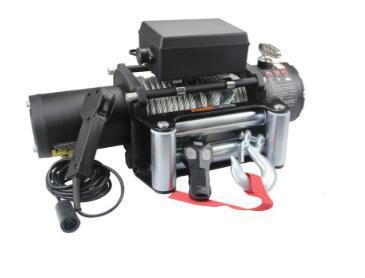 It's  the most popular model in the current market .Classic design ,excellent performance with not a big price ,which are the top choice for customers . high quality with brute torque series wound motor , 3 stage gear driven- train , Sliding ring gear for "engage" and "disengage" . Working at extreme hard condition , low noise ,small amps .Top recovery equipment for off-road . They are available of pulling ranges from 8500lbs-12500lbs . Welcome to further inquiries !

 

Synthetic rope & aluminum fairlead are available for this model !

 

12000LBS Features and Specifications :

Part number : XM-TE934

Performance: DC 12 V OR 24 V

Single line rated pull: 12,000lbs ( 5436kg)

Motor: 6.65hp/5.0kw series -wound

Braking action: Automatic locking with motor

Clutch: Sliding ring gear

Gear train : 3 -stage planetary

Gear ratio: 265: 1

Remote Switch: 12ft ,wire remote control with black hand bar , wireless remote kits included

Battery: Recommended:650CCA minimum for winching

Battery Leads: 2 Gauge 72"(1.83m)

Fairlead: 4-way roller fairlead (Aluminum Hawse available )

Synthetic rope: Ф10 x 85 ft (Ф10x 25 m )

Weight: 92Â pound (39kg )

Overall dimension: 21.3" x 8.6" x 6.3" (550mm x 220mm x 160mm)

Mounting bolt pattern: 10" x 4.5" (254mm x 114.3mm)

 

Line Speed And Amp Draw ( First Layer )
Line Pull
lb
NO
4000
6000
8000
10000
12500
kg
LOAD
1812
2718
3624
4304
5665
Line speed
ft/min
22.8
11.8
10.2
8.5
7.0
6.0
m/min
6.95
3.6
3.6
2.6
2.13
1.83
Motor current
Amps
78
166
207
248
310
372
 

Line Pull And Cable Capacity
Layer of cable
 
1
2
3
4
Rated line pull per layer
lb
12500
9927
8250
7045
kg
5665
4497
3737
3191
Length of cable on drum
ft
17.8
38.2
64.2
72
m
5.93
12.73
19.57
24.00
Raycus industrial fiber laser engraving machine
Raycus Fiber Laser Marking Machine is the new generation Laser Marking System developed with advanced laser technique. It adopts fiber laser to output laser and achieves to marking function after high speed scann ioscillating mirror system. It has higher photoelectric transfer efficiency. This machine adopts air cooling way and the whole machine is small. The output beam is qualified, high reliability.
Feature
1.Delicate marking.High quality laser beam, it is very suitable for delicate marking.

2.High Marking Speed.With high repeat frequency of the pulse,power output steadily.

3.More than 10years life. Ultra-low running cost.The service life of the laser module if more than 10000hours.

4.Wide range of application.The Fiber Laser Marking Machine can mark on all kinds of metal materials and some kinds of nonmetal materials.

5.Easy Operating.Afford the specific marking software based on windows,which is real-time adjust the laser power and pulse frequency.You can edit what you need to mark directly by the specific marking software and the graphic software such as Auto CAD,COREL draw of photoshop.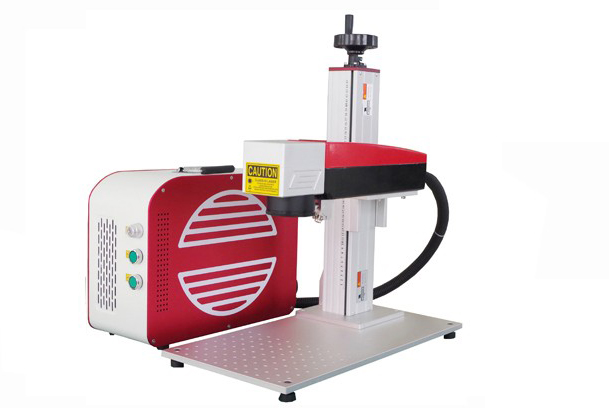 Feedback
Once you have received your item, please leave feedback for us as this will inform us that you have received your items.

Your positive feedback and 5 Star ratings: after you receive your order, we will give you a positive feedback.

Before give Neutral or negative feedback : pls contact us immediately,so that we can satisfactorily address your concerns

Raycus Fiber Laser Marking Machine

20W Fiber Laser Marking Machine,Raycus Fiber Laser Marker,Desktop Fiber Laser Marking Machine,Raycus Fiber Laser Marking Machine

Jinan Vmade CNC Machine Co.,Ltd , https://www.vmadecnc.com